Giving a home-baked gift is a great way to show someone you care! Every March is Bake and Take Month, a time to celebrate your everyday relationships with some delicious baked goods. Bake and Take was created in 1971 by the Kansas Wheathearts to be an opportunity to revisit relationships with friends and family by baking and sharing treats.
Kansas Wheat and the Homebaking Association continue those efforts today with their Bake and Take Month partnership. While a month long celebration might not be the right fit for some, Bake and Take Day, celebrated annually on the fourth Saturday in March, is a great opportunity for families and service groups to get together in the kitchen and around the oven.
If you do bake it off, let HBA see your creations on social media! Check out Home Baking Association's Facebook page, Instagram, and Twitter feeds here.
Facebook Live Event!
Who doesn't love a fresh baked good in their life? If you're looking to spread a little spring-time cheer, meet your newest neighbor or impress your new in-laws, Bake and Take Month in March is the celebration for you! Bake up a storm with an expert, Sharon Davis from HBA, and try your hand at Whole Grain Rich Carrot Apple Muffins! 2:30 p.m. central time!Here's a free download of a recipe that will be featured!

Baking for others is everything a parent, a teacher and a community could want. The soft pretzel was originally baked as a reward for learning and remains a sign of "blessing" or appreciation to this day. On-line lesson Bread with a Twist outlines many ways to teach and learn from baking as a service. See how to shape pretzels
Several resources to help Bake and Take include: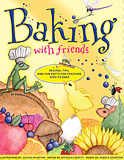 Perhaps you can share your love of baking by giving a copy of Baking with Friends to someone special. Check out the Home Baking Association resource here.
Above all, just DO IT! Enjoy Bake and Take Month!