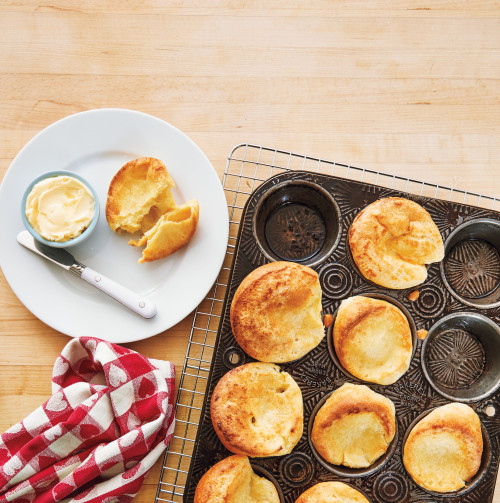 Makes 12
These treats are light and airy and yummy! Bake up a batch as a quick and easy after-school snack.
Preheat the oven to 375⁰ F (190⁰ C).
Here's What You Need
1-2 tablespoons butter
2 eggs
1 cup milk
1 cup flour
½ teaspoon salt
Here's What You Do
Place a small pat of butter in the center of each cup in a 12-cup muffin pan. Put the pan in the oven for just a minute or two to melt the butter, and then take it out.
Whisk the eggs in a large bowl. Add the milk, flour, and salt. Whisk until most of the lumps are gone.
Transfer the batter to a large measuring cup for easy pouring. Pour the batter into the buttered muffin pan cups, filling each about two-thirds full.
Bake the popovers for 30 to 35 minutes, or until golden brown and puffy. Remove the pan from the oven. Carefully pop them out of the muffin pan with a butter knife. Eat right away! They're extra delicious with jam and honey.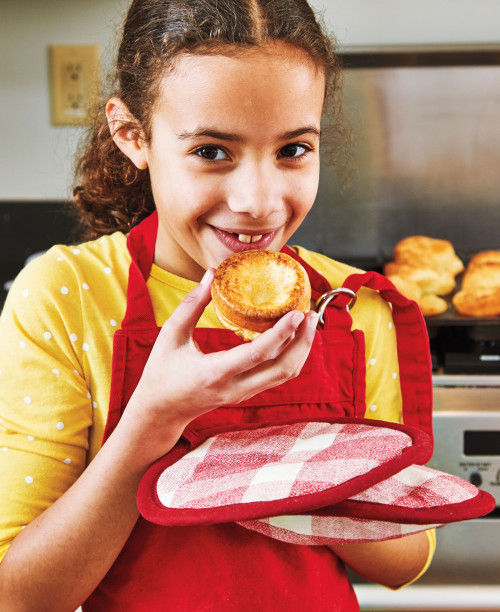 A Science Experiment You Can Eat!
Did you know that all baking is basically kitchen chemistry? Baking combines various ingredients and uses heat (and sometimes other steps, like kneading dough) to create a reaction that turns the ingredients into something different.
To make a perfect popover that's crispy on the outside and hollow on the inside, you need a hot oven, flour, and eggs. Imagine your popover is like a hot air balloon: The shell of the balloon is made of the protein in the eggs and flour. The steam comes from the hot liquid (the milk) heating up and evaporating. As it fills with hot air, the balloon "pops over" the sides of the pan, making it a tasty chemistry experiment!
Excerpted from Baking Class © by Deanna F. Cook. Used with permission from Storey Publishing.