Who can resist seeing your own child bake and serve something amazing?  Whether they're 5 and serving you their first muffin or twenty-five you're savoring the moments. Granted, at five, somedays it's hard to choose–"should I let them help and pay the "time and clean-up price" or do-it-myself?" Let me show you the pay-off.
Last weekend our 24-year old daughter served up an amazing Potato Leek Galette with Rosemary Sea Salt Crust for a shared Sunday supper.
We grew the Yukon Gold potatoes and onions in our Community Garden—she bought the leeks at the Farmer's market and harvested her own fresh rosemary.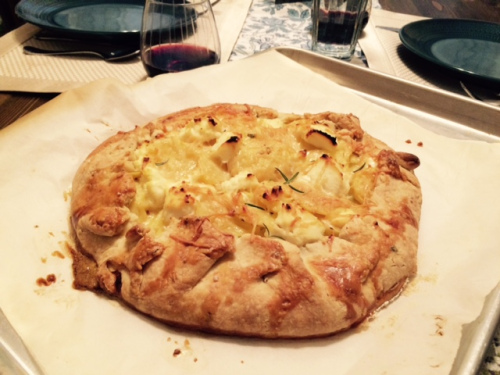 Katy's recipe came from Cara Mangini, October/November 2017 Fine Cooking magazine.
From a teacher's perspective, I love teaching people how to bake a Galette. Young bakers succeed and go home and can bake them on an oven-proof dinner plate–perfect for students who may not have a lot of baking pans yet.
For the Recipe Buzz" on galettes, sweet or savory, starting with "A" for Asparagus Galette and ending with a beautiful Zucchini Galette
For a ready-to-go lesson on baking a Rustic Fruit Pie (Galette), download Book and Bake Easy-as-Pie, filled with pie lore and apples galore.  See a How-to video, www.HomeBaking.org, the Baking Channel.