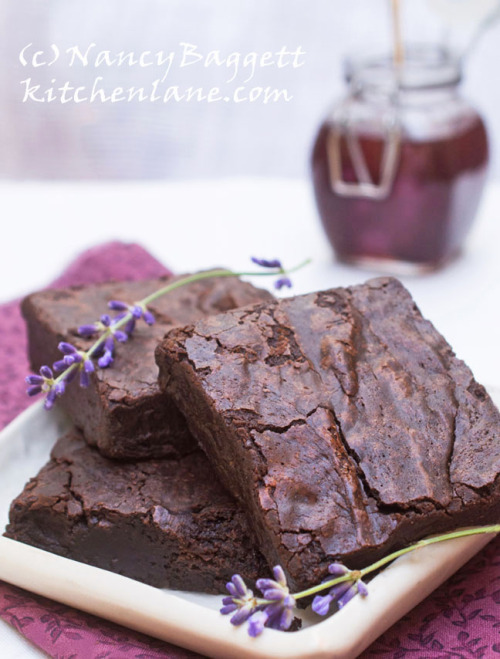 Brownies are one of America's best baking inventions. They first turned up, without any fanfare, in the 1906 edition of Fannie Farmer's The Boston Cooking-School Cook Book.  No, Mrs. Farmer's brownies did not contain lavender.  But they were rich, dark, and full of chocolate flavor, so she got us off to a very good start!
These are in Mrs. Farmer's classic brownie style (no chocolate chips, no cheesecake swirls, no icing), but with a surprising and enticing taste twist provided by raspberry jam and lavender. They are fruity and nearly as rich and deeply chocolaty as fudge—also a very good thing!
Tip: The baking time depends greatly on the pan used, so check frequently for signs of doneness. In a heavy, dull metal pan that absorbs and holds heat readily, the brownies may be done in only about 20 minutes. But a glass or shiny metal pan they may take up to 8 minutes longer. Use the toothpick test to tell.
Ingredients
1/4 cup raspberry jam or preserves combined with 3 tablespoons water
1 cup (2 sticks) unsalted butter, cut into chunks
1 to 1 1/2 tablespoons dried culinary lavender buds
1 2/3 cups all-purpose white flour
1/4 cup unsweetened cocoa powder
1/2 teaspoon salt
2 cups granulated sugar
11 ounces bittersweet (not unsweetened) or semisweet chocolate, broken up or coarsely chopped
1 teaspoon vanilla extract
1/4 teaspoon raspberry extract or homemade lavender extract, optional
4 large eggs, at room temperature
Heat the jam-water mixture and butter almost to boiling in a small saucepan, then set aside. Stir in the lavender buds and let stand while readying the other ingredients.
Preheat the oven to 350 degrees F. Line a 9- by 13-inch baking pan with heavy aluminum foil; let it overhang the narrow ends. Grease or coat the foil with nonstick spray or cooking oil.
In a medium bowl, thoroughly stir together the flour, cocoa powder and salt; set aside.
Strain the butter mixture through a fine mesh sieve into a large saucepan; press down to force through as much of the mixture as possible.
Stir the sugar into the saucepan. Heat, stirring, just until the sugar dissolves and the mixture is hot but not boiling; don't worry if it looks curdled or oily.
Remove it from the heat.
Add the chocolate, stirring until completely melted.
Set aside until cooled to just slightly warm (if the mixture is hot, the eggs may curdle when added).
Stir the vanilla and raspberry or lavender extract (if using) into the pan.
Vigorously stir in the eggs one at a time.
Stir in the dry ingredients just until the batter is evenly blended.
Turn out the batter into the baking pan, spreading to the edges.
Bake (middle rack) for 20 minutes, then begin frequently testing for doneness: When the center top is barely firm when tapped and a toothpick inserted in the center comes out clean except for the bottom 1/8-inch (which will look wet), the brownies are done.
Transfer the pan to a wire rack.
Let stand until cooled to warm, about 20 minutes, then, for easiest cutting, refrigerate until chilled.
Using the overhanging foil as handles, carefully transfer the brownie slab to a cutting board.
If desired, trim away the uneven edges using a large, sharp knife. Cutting through the foil, cut the slab in half crosswise. Carefully peel off and discard the foil from the bottoms.
Cut each brownie slab into 2 1/8 by 2 1/4-inch bars, or as desired; remember they are very rich. Wipe the knife clean with damp paper towels between cuts.
Stored airtight, the brownies will keep well for 2 or 3 days. They also freeze well for up to a month. If freezing, leave the brownie slab whole, then cut into portions when partially thawed.
Makes 32  2 1/8- by 2 1/4-inch bars.