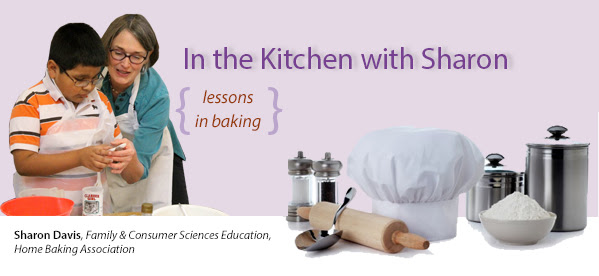 I'll keep this short to allow you time to bake what is one of the tried-and-true breads of my life—Pilgrim Bread.  The original recipe—splattered and worn—is in my More-with-Less Cookbook by Doris Janzen Longacre.
This bread is great baked in small batches for family or nearby neighbors as well as large batches like the hundreds baked to raise funds for refugee needs in El Paso. Very soon it will be baked by 200 "pilgrim" teens in Atlanta attending their 4-H Congress.  We'll "Share the Wealth" baking brings to life and give half to the Atlanta Food Pantry.
Dictionary.com defines a pilgrim as "a person who journeys, especially a long distance, (often) to some sacred place; a traveler or wanderer, especially in a foreign place."  This sums up most of our experiences, starting with personal family trees and onward to this time of year when we share what is sacred time with friends, families, faith groups and communities.
I hope you'll carve out time to bake this bread that combines three nourishing ancient grains, a little leaven, brown sugar, water, oil and salt. Feel free to slow down the process with cooler water and regular active dry yeast.  If this bread is too sweet for your tastes, simple decrease the sugar.
Need how-to help or a source for an ingredient?  View key steps to measuring and kneading in our Baking Glossary and members' test kitchens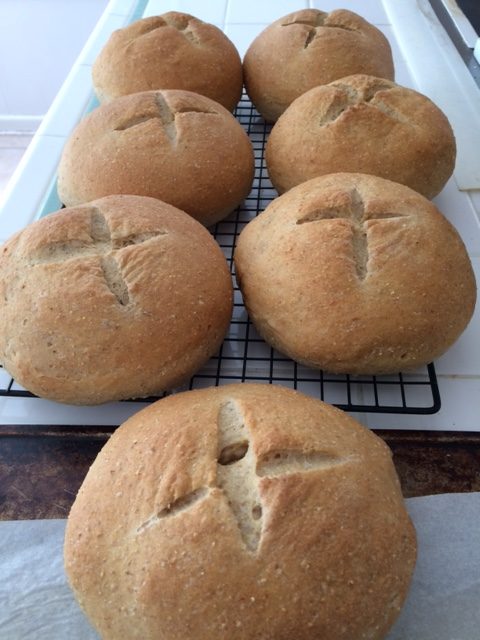 Pilgrim Bread   Makes 16 buns, four small round loaves or two large loaves.
Ingredients                                                 
1 ½ cups (12 oz) Water, very hot (180-190°F)
½ cup (2.5 oz/70g) Cornmeal, yellow or white
¼ cup (1.6 oz/45 g) Vegetable oil 
½ cup (4 oz) Water, cool
4 ½ tsp (½ oz/14 g) Instant or fast-rising yeast (2 pkg)
¼ cup (2 oz/55 g) Brown sugar, packed
2 cups (8.5 oz/240g) Whole wheat flour (hard wheat)
½ cup (1.8 oz/55g) Sorghum or rye flour 
2 ½ tsp. (½ oz/15g) Table salt
3 cups (12.75oz/360g) Bread flour, unbleached*
 *May require additional small amount for kneading
 Directions Tie back hair, remove jewelry, wash hands, put on apron.
In large mixing bowl whisk very hot water and cornmeal to blend. Stir in vegetable oil or shortening. Continue with Step 2.
In separate mixing bowl combine yeast, brown sugar, whole wheat flour, sorghum OR rye flour and salt. Mix well.
Add cold water to cornmeal mixture; take a temperature to be sure it's cooled to 130°F. Stir in the flour and yeast mixture.  Stirring vigorously, adding 1/2 cup at a time, mix in 1½ cups bread flour.  Stir about 3 minutes, until rough dough ball forms.
Measure last 1 cup bread flour. Scrape out mixing bowl, turning dough onto clean kneading surface, or add dough hook to mixer to develop dough.
Sprinkle the dough with about ¼ cup flour. Knead in the bowl or on the mat/counter for 1-2 minutes. Repeat with ¼ cup more flour, kneading another minute.  Repeat 2 times more. Dough should become smooth and elastic.  If dough is very sticky, sprinkle with another 2 T. flour and knead again. Stir/knead/mix 5 – 10 minutes.
Turn bowl over dough. Let rest at least 10 minutes. Meanwhile, wash hands, counter, line or oil sheet pan; sprinkle pan with cornmeal.
Gently weigh dough. Divide dough in equal halves to form into two large loaves, or equal fourths for four small loaves or into 16 buns. Stagger or space loaves and buns at least 2-inches apart.
Cover lightly or proof about 20-30 minutes (loaves double in size)— a 105°F draft-free place is great.
Preheat oven to 375°F. Slash loaves in center top (about ¼-inch deep).  Bake 25-30 minutes, until 190°-200°F. at center of loaf. Cool bread on wire racks until 100°F. at center before slicing or packaging.
Wash counters, utensils and hands before handling baked bread. Store bread at 70°-95°F.—do not refrigerate bread–freeze bread if not eaten in 1 day.